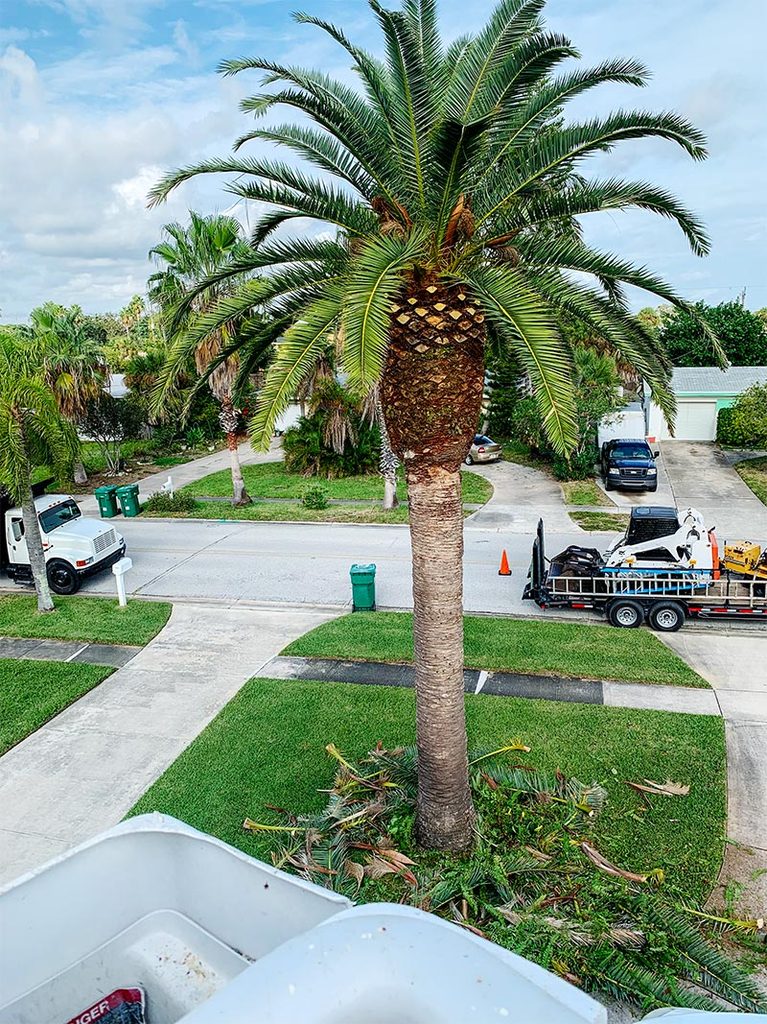 Brevard County, Florida has an abundance of palm trees including select specimen varieties. Knowing how to trim these types of palms is important for your tree's heath. Palm tree fugus is on the rise in Brevard County and needs an expert to handle.
Ganoderma, Fusarium Wilt, and Texas Palm Decline are present in our area. Knowing how to recognize these symptoms will aide in cross contamination and spreading fungus on your property or to the next customer. We practice equipment sterilization and most importantly not trimming a contaminated tree when the tree should be removed. We do not offer so called hurricane cuts which damage the vitality and vigor of the palm. Instead we remove lower fonds, all seeds, trim loose boots leaving your palm healthy and mess free.
Signs and symptoms of disease, fungus, palmetto weevil, whitefly:
Ganoderma Butt Rot – most easily identified palm fungus. Symptoms include wilting or decline in the fronds. On the lower portion of trunk, a fungal growth conk will be present. Once a conk is observed the palm should be removed immediately. All species of palms are susceptible.
Fusarium Wilt – Symptoms include dead or yellowing fronds caused by a damaged vascular system. This disease is most commonly spread by improper sanitization of tools. This disease has been around for less than a decade but is consistently more widespread. Palms infected should be removed immediately.
Texas Phoenix Palm Decline - is the newest disease for palms in Florida, spread by an insect leafhopper. Symptoms are discoloration of the fronds and death of the main stem sometimes relatively quick. When diagnosed at the earliest stages, high value palms can receive antibiotic trunk injections.
Palmetto weevil – is becoming a more common problem in our area. Most common death of Silver Bismarck palms followed by Canary Island Date and Sabal Palm. Symptoms include death of the main stem or bud, decline of the inner fronds, and severe wilting of the lower fronds. The diagnosis of palm weevil is most of the time too late for saving a palm. High vale palms can receive antibiotic trunk injections to prevent infestation. Proper trimming technique is key on specimen palms by not allowing the palm to be stressed.
Whitefly – Rugose Spiraling Whitefly is the larger version of the common whitefly and has been found in Brevard County. Infestation is common on coconut palms as well as other palm species. Damage is identified by the population level of insect. Short palms are great candidates for a foliar spray while taller palms benefit from a trunk injection.
Trunk injections – In the 21st century of tree technology is trunk injections. As referenced above, trunk injections can have beneficial results in preserving your high value palm or hardwood tree. Arborjet is the term and is a highly effective treatment program. Offering insecticide, nutritional, and fungicide programs this process is highly effective and eco friendly over traditional methods. We work closely with Ecor Lawn Spray & Pest control here in Melbourne offering Arborjet.
At Superior Tree Service, we have the knowledge and experience necessary to maintain the health of your palm trees. Contact us today to schedule an appointment.